Paris-Madrid 2011 efficiency race celebrates the 100th anniversary of the first Morane-Saulier race between Paris and Madrid back in 1911.
Pipistrel is proud to announce our

Double Podium at the 2011 Paris-Madrid Green Air Challenge

.
Just like the original event, the 2011 race, named Green Air Challenge, promotes the »conception of innovative aircraft that are superior from the aerodynamic, engine and structural point of view«.

After having won the renowned NASA Personal Air Vehicle (PAV 2007) and NASA General Aviation Technology (GAT 2008), Pipistrel again proved to be superior and to have the winning combination both in the Sinus 912 and Virus SW 100 in a strong competition! This double podium is a true statement to overall performance and extreme aeroefficiency of our aircraft.

Sinus 912 (registration F-JRZQ) piloted by Michail Anastasiou, won the race by a large margin. Virus SW 100 (registration F-JSER) piloted by Pierre Cormi took third place, showcasing Pipistrel's superiority in efficient flight. We would like to congratulate the winning pilots on these fantastic achievements and extend our compliments to the race organisers for their green flight initiative.

(photos by Craig Peyton)
In the race, each team had to fly the distance between Paris and Madrid in several legs, totaling 1229 km as fast and efficiently as possible, while performing a noise emission test half-way through the race. Criteria for the calculation of the final result included: Speed, Payload Capability, Fuel Consumption, Range distance, Noise Emissions and Safety Features . More about the race: http://parismadrid2011.free.fr/PM2011/index.php?lng=en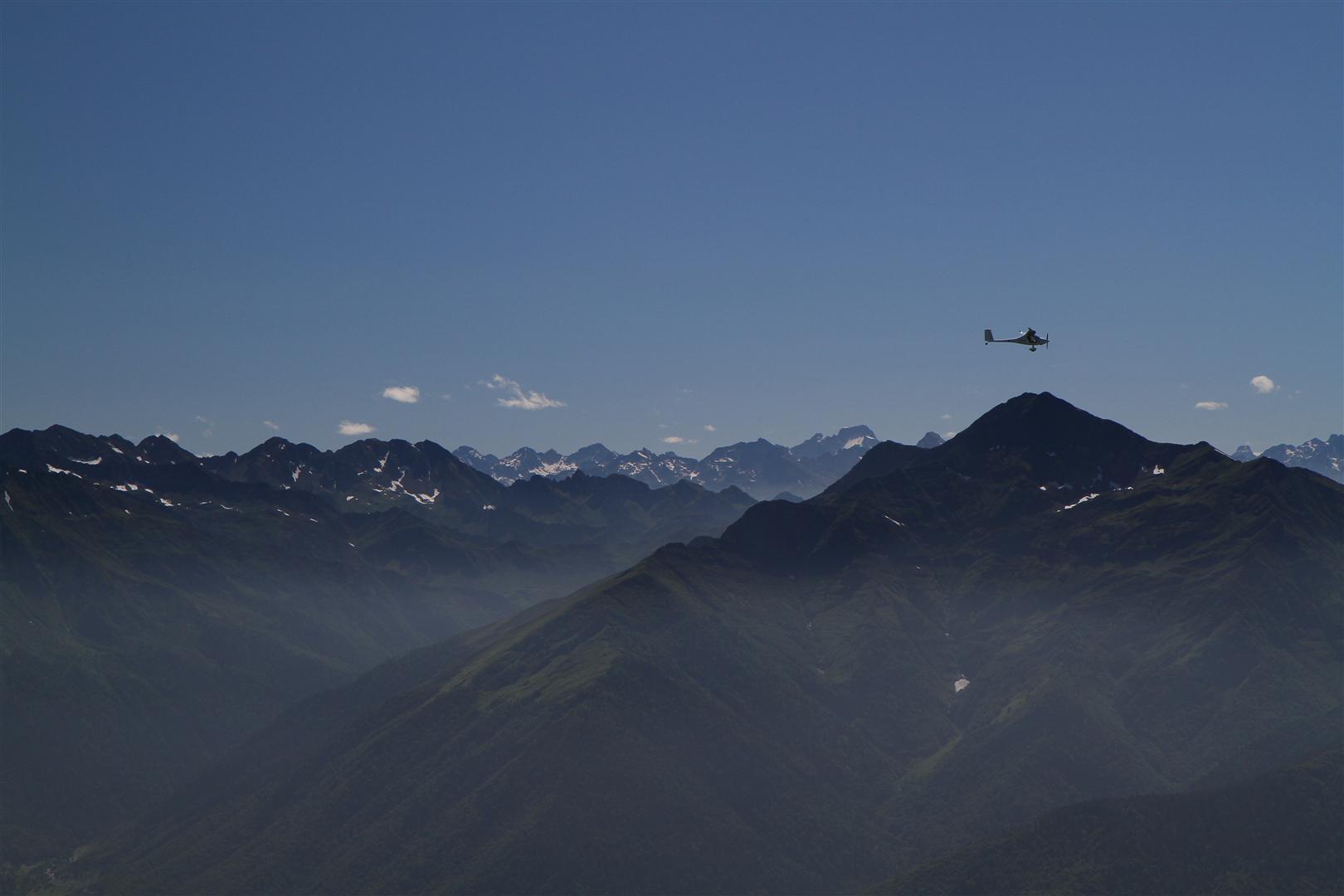 A beautiful video by Craig Peyton about the Green Air Challenge, with English narration: http://www.youtube.com/user/BahamasAviator?feature=mhee#p/u/0/BnykUO3mROU


To see all the competitors, please visit this page: http://parismadrid2011.free.fr/PM2011/articles.php?lng=fr&pg=119
More photos here: http://parismadrid2011.free.fr/PM2011/plugins/diaporama/diaporama.php?lng=fr&diapo_id=7&diapo_page=2

More details will follow in the next days.
---
Pipistrel would like to thank....
-Special thanks go out to the winning pilot Michail Anastasiou for being a ture ambassador of Pipistrel. His contribution is on par with those of Michael Coates (2x NASA winning pilot on Virus SW, first crossing from Australia to New Zealand), Philippe Zen (FAI World Champion 2001, Vice-Champion 2005 on Sinus 912) and Matevz Lenarcic (Around-the-world flight in 2004 on Sinus 912). Before this victory, Anastasiou has completed numerous extreme flights, including the Athens-Nordkapp journey and altitude record flights with Taurus M.
-Special thanks go out to Pierre Cormi, who demonstrated exceptional capability of Virus SW during this race by claiming the third place after Pipistrel's Sinus 912, making this double podium a truly memorable event.
-Special thanks go out to Finesse Max, Pipistrel's distributor in France, and all their team, who played a major organisation, preparation and operational role in the race. Thank you all very much!
---
Pipistrel d.o.o. Ajdovscina, the winner of European Business Awards 2010 as the most innovative company, produces World's top quality ultralight/microlight/LSA aircraft of the widest variety, combining twenty five years experience in the field of aviation with expertise and environmental awareness. Company facilities, which are 100% energetically independent thanks to own solar powerplant and geothermal system, incorporate all phases of aircraft: own Aerospace institute and R&D center, rapid prototyping department, testing and certification facility as well as full manufacturing, delivery and after sales support capability. Currently, Pipistrel operates own, widespread distribution network in over 60 countries with over 1000 Pipistrel aircraft flying on all continents of the World. Pipistrel's energy-preserving and people-oriented concept is being reflected in the work we do and products we deliver – the highest quality, best performing, safe, robust and reliable aircraft on the market, all built with pride and optimised to perfection.
Sinus 912 is our 15-meter wingspan ultra-long-range motorglider, which has won the FAI World Championship already in 2001, took the vice-champion title in 2005 and performed the first solo, unassisted, Around the World Flight in the FAI sub 500 kg class in 2004.
Virus SW 80/100 is Pipistrel's flagship, which won both NASA Centennial Challenges, the PAV in 2007 and GAT Challenge in 2008 as the World's best and most fuel efficient light aircraft. The Virus SW 80/100 is the most economic high speed 2-seat cruiser and definitely the fastest high-wing aeroplane in its category. Made from state-of-the-art composite materials it is lightweight, robust and features an has unprecedented useful payload of more than 300 kg (660 lbs) when flown in the LSA category. Virus SW 80/100 offers what no competitor is able to offer and has won hearts of people world-wide and is the best seller since its introduction. Despite the superior performance, Virus SW 80/100 fully conforms ultralight/microlight category rules, including the stall speed of 65 km/h and excellent low speed handling.
********************************************************************************************************************************************************************
Velika zmaga in dvojne stopničke za Pipistrel na tekmovanju Paris-Madrid Green Air Challenge
Tekmovanje Paris-Madrid Green Air Challenge 2011 ovekoveča 100-obletnico prve letalske dirke Morane-Saulier med Parizom in Madridom iz leta 2011, hkrati pa se osredotoča na iskanje inovativnih letal, ki izstopajo s svojimi aerodinamičnimi lastnostmi, varčnimi letali in modernimi materiali.
Pipistrel ponosno sporoča, da sta naši letali osvojili dvojne stopničke na dirki Paris-Madrid Green Air Challenge 2011. Po odmevnih zmagah na tekmovanjih NASA Personal Air Vehicle (PAV 2007) in NASA General Aviation Technology (GAT 2008) je Pipistrel zopet dokazal svojo premoč v hudi konkurenci, tokrat kar z dvema letaloma – Sinus 912 in Virus SW 100. Dvojne stopničke so odraz vsestranskostki in ekstremne varčnosti naših letal.
Sinus 912 (registracija F-JRZQ), ki ga je pilotiral Michail Anastatiou, je zmagalo na dirki z veliko prednostjo. Letalo Virus SW 100 (registracija F-JSER), ki ga je pilotiral Pierre Cormi, je zasedlo tretje mesto, kar dokazuje superiornost Pipistrelovih letal pri varčnem in učinkovitem letenju. Pipistrel čestita obema zmagovalnima pilotoma za fantastičen dosežek. Čestitke tudi organizatorjem dirke za okolju prijazno iniciativo.
Na dirki je morala vsaka ekipa preleteti razdaljo med Parizom in Madridom v več delih, vsega skupaj 1229 km - cilj je bilo preleteti razdaljo kar se da hitro in s čim manjšo porabo goriva, medtem ko je bil na polovici dirke še test proizvedenega hrupa v zraku. Kriterij za izračun končnega rezultata je bil sledeč: hitrost, uporabna teža (tovor), poraba goriva, dolet, proizveden hrup in varnostne lastnosti.
Več o sami dirki lahko najdete na sledeči spletni strani: http://parismadrid2011.free.fr/PM2011/index.php?lng=en

Za informacije o vseh sodelujočih na dirki obiščite http://parismadrid2011.free.fr/PM2011/articles.php?lng=fr&pg=119
Več fotografij: http://parismadrid2011.free.fr/PM2011/plugins/diaporama/diaporama.php?lng=fr&diapo_id=7&diapo_page=2
Več podrobnosti bomo dodali v prihodnjih dneh.
---
Pipistrel se zahvaljuje...
-posebna zahvala gre zmagovalnemu pilotu Michail-u Anastasiou, za vlogo ambasadorja Pipistrelove tehnologije po svetu. Njegovi dosežki se kosajo z dosežki Michaela Coatesa (dvakratni zmagovalni pilot letala Virus SW na natečaju agencije NASA,prvi prelet od Avstralije do Nove Zelandije), Philippe-a Zena (FAI svetovni prvak 2001, Vice-prvak 2005 z letalom Sinus 912) in Matevža Lenarčiča (Polet okoli sveta leta 2004 z letalom Sinus 912). Pred to zmago je g.Anastasiou opravil številne ekstremne polete, vključno z letom Atene (Gr) - Nordkapp (Nor) in postavil več višinskih rekordov z letalom Taurus M.
-Posebna zahvala gre pilotu Pierre-u Cormi, ki je na dirki demonstriral izjemne sposobnosti letala Virus SW in z doseženim tretjim mestom dopolnil velik uspeh zmagovalnega Sinusa 912.

-na zahvala gre podjetju Finesse Max in njegovemu osebju, Pipistrelovim zastopnikom v Franciji, saj so s svojim delom odigrali pomembno vlogo pri organizaciji, pripravah in izvršitvi dirke.
Vsem iskrena hvala!
---